Bray Curved White Heated Towel Rail Warmer Electric, With Thermostat + Timer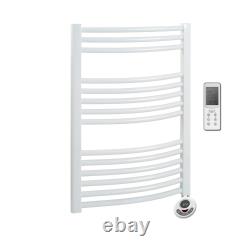 Bray Curved White Heated Towel Rail Warmer - Electric, With Thermostat + Timer. Fed up with a cold bathroom? We know a walking into a cold bathroom before showering makes you want to go back to bed. Then the situation is made worse as you dry yourself with damp and musty towels.
The R3 thermostatic electric heated towel rail lets you warm your bathroom and towels fast and effectively. Packed with energy saving features, the radiator is Eco design / Lot 20 compliant. With the weekly programming you can choose exactly when your room will be warm.
Bray Curved White Thermostatic Electric Heated Towel Rail. R3 Heating Technology - with timer, thermostat & energy saving features. Professionally pre-filled with thermo fluid. 25mm high output cross bars. Selection of sizes suitable for any space.
Bray Curved White Thermostatic Electric. Designed with energy efficiency in mind, R3 electric towel warmers are eco design / lot 20 compliant, reducing energy consumption and running costs. With the correct size matched to the room, the towel radiator can be used as the room's primary heat source. The Bray's quality is eye-catching when stood next to cheaper towel rails. Crafted with 1.5mm steel, the radiator around 50% thicker than the average towel radiator, increasing surface area and maximising heat emission. The result is a more substantial towel warmer, with increased prevention against defects, including rust and pinhole leaks. This is an electric towel rail and will arrive pre-filled. The R3's state of the art technology is integrated into a single element head to ensure a tidy installation, removing the need for additional unsightly connections and receiver boxes. The R3 comes with open window detection, turning the towel rail off automatically when your trying to cool down the room. The element's settings can be changed with the user-friendly remote control.
The timer's schedule is programmed and stored using the remote. As the information is stored in the remote rather than the radiator, it's quick and easy to re-programme the element should a power cut wipe the memory. Also, multiple elements can be programmed from one remote. The R3 also has manual controls on the front face, allowing temperature adjustment and a 2 - 4 hour boost facility if the remote is ever lost. The R3 towel radiator has two thermostat options.
Towel Rails, especially in a chrome finish, can be extremely hot to touch. Controlling the surface temperature lets you choose how hot the towel rail will be to touch. This is useful in preventing the risk of children or the elderly from burning themselves. It is also ideal if you're drying towels, as the thermostat recording is isolated from external heat sources, which would interfere with your towel drying. If the radiator is used as the room's heat source the air temperature thermostat will regulate the radiator based on room temperature.
The element and remote control have an anti-tamper lock. Create your own pin code to unlock the radiator and prevent the element's setting from being messed around with. This makes it ideal for use in hotels wash room and spaces with young children. 24/7 time control via remote control. Measures air temperature from 18°C - 32°C.
Controls water temperature from 30°C - 70°C. Rated IPX4 for use in bathroom zones. Manual control override directly on the element with 2 & 4 hour boost. The SolAire Bray curved white thermostatic electric towel warmer is ASTMB117 tested and salt tested for 250 hours. This strict quality testing ensures the long lifespan of the radiator. Our towel rails are professionally converted to electric, by ourselves, at our North Yorkshire factory. Where the rail is filled with a electric radiator solution. This ensures smooth and constant heat across the radiator and prevents interior corrosion. This radiator has a 10 year guarantee, so that you have total peace of mind. We have years of experience, so be assured you will not have any hassle with the electric towel rail. Thermostatic Element will arrive in a separate tube.
Installing is a quick and easy task. It simply screws into the bottom of the radiator.
By increasing the surface area, the heat emission potential is maximised. Which in turn, produces a higher BTU output to keeps your bathroom warm. We design our bathroom radiators with quality, aesthetics and efficiency in mind. Create your own heating schedules that work around your lifestyle.
With 4 on and off times per day, allowing compete flexibility and control. With the R3, accurately monitor the air temperature or rail's surface temperature.
So, whether you're using the radiator to dry linen or heating the room, the R3s got you covered. The R3 recognises an open window / door and shuts off. Meaning, that your electricity bill isn't spent on heating the great outdoors. This function can be switched off.
Completely lock the temperature or timer of the radiator. Set a maximum temperature that the radiator will reach. Ideal for public area's or situations that require a maximum surface temperature. Anti-tamper pass code lock on remote control.
Set a 4 digit code that has to be input to access the control. Wireless communication with the R3 remote controller. Weekly programmes and settings adjustment with the remote controller supplied with the R3 range. Our couriers are APC and DHL.
We use APC for larger items such as towel rails, panel heaters, oil filled radiators & mirrors. We use DHL for smaller items such as Accessories (Valves, Element, Small Fan Heaters).
The selection of courier may not be indicated on your order details so please make a note of this for when you need to track online. They will take a photo of the parcel and log the GPS coordinates. The online tracking details will update with this information. Our system will send automated emails and texts with the tracking information. If you do not have a mobile number on your account, you will not receive the texts. Please keep a note of tracking information in case you have any issues. To manually track your item please go to the APC or DHL website for an update.
This is useful if you do not receive a tracking notification or cannot find it. Not at home when the parcel is delivered? If you have not indicated a safe place, you will either receive a card from the courier or they will attempt to leave it with your neighbour. Please contact the courier directly to organize this. In some circumstances the second parcel can arrive at a different time, or even the following day.
When the courier delivers the item please check the package before you accept it. If you accept the parcel but find that the contents are damaged when you open the box, please. Please keep the box of damaged items because the courier will need it to be packaged when they pick it up. If you do not have the original box anymore you will need to find a suitable box to return the item.
Having difficulty using the product? The user manuals can be found on our company website. You can download them from the manuals link on the footer section of homepage. You can also check the product pages or FAQ pages for additional information.
Scottish Highlands and Islands (Postcodes: AB, DD, FK, IV, KW, PA, PH, ZE). Collection is available from our warehouse in North Yorkshire.
Solaire Heating Products is an online retailer of electric heaters, heated towel rails, designer radiators and bathroom led mirrors.